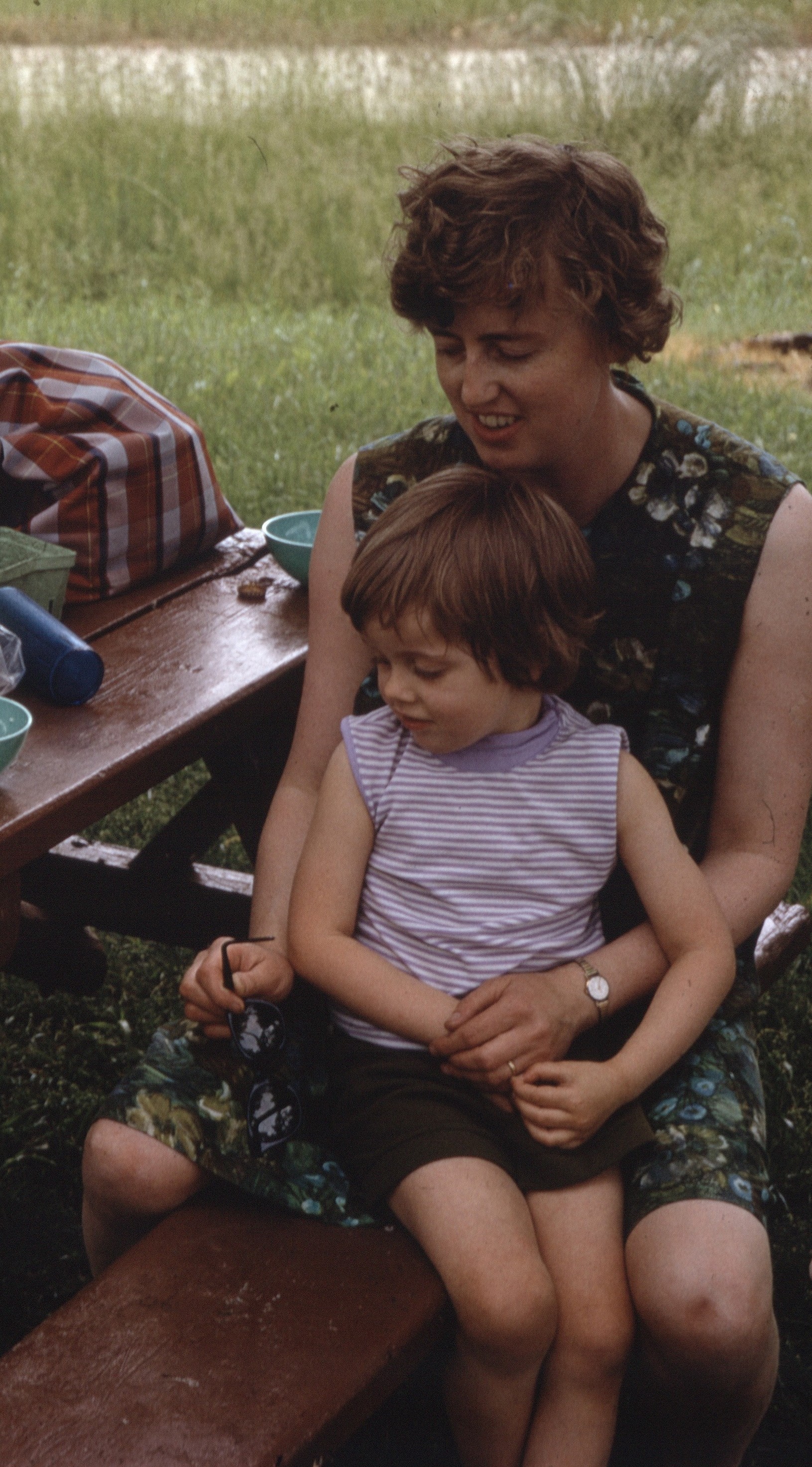 Today is Glossophilia's second birthday, and to mark the occasion (and ending Glossophilia's short series of posts about childhood rhymes, songs and words), I'm dedicating this post to my mum and my grandma, and the songs they taught and sang to me.
One of my favorites, which my mum often sang when she was tucking me into bed, was one she wrote herself when she was about 10 or 11 years old:
The  moon shone red and animals stood on their heads when I kissed you last night.
The stars stood still to hear you say I will, when I kissed you last night.
Trees were walking and fishes flew
The sky was green and the grass was blue.
The whole darned world was topsy turvy coz of you
When I kissed you last night.
— Maureen (Jane) Cornwell
To calm me when I was upset, she would sing this little song that her own mum sang to her, probably dating from the Great Depression:
Don't cry little girl, you can share your home with me.
Though we've got no table and we've got no chairs
We've got no windows and we've got no stairs
It's just a humble doorstep, but you're as welcome as can be.
So don't cry little girl.  Don't you cry little girl.
You can share your home with me.
The songs my sister and I sang at the piano with our mum were many, but one of my favorites was "Drink to Me Only With Thine Eyes", an old English song setting of an Elizabethan poem "Song To Cecilia" by Ben Johnson.  Here's a lovely version of it sung by Johnny Cash. Other childhood chestnuts were "Early One Morning", an old English folk song (sung here by the New College Choir, Oxford), and "Cherry Ripe", an early 19th-century English song (sung here by Salome Jiqia), as well as Creole ballads and spirituals from the songbook of Charity Bailey, whom the New York Times described as "a young woman with a sad, sweet and rather light voice". And we especially loved "Brother, Come and Dance With Me" from Humperdinck's opera Hansel and Gretel, which was almost certainly on the program in this short home cine film.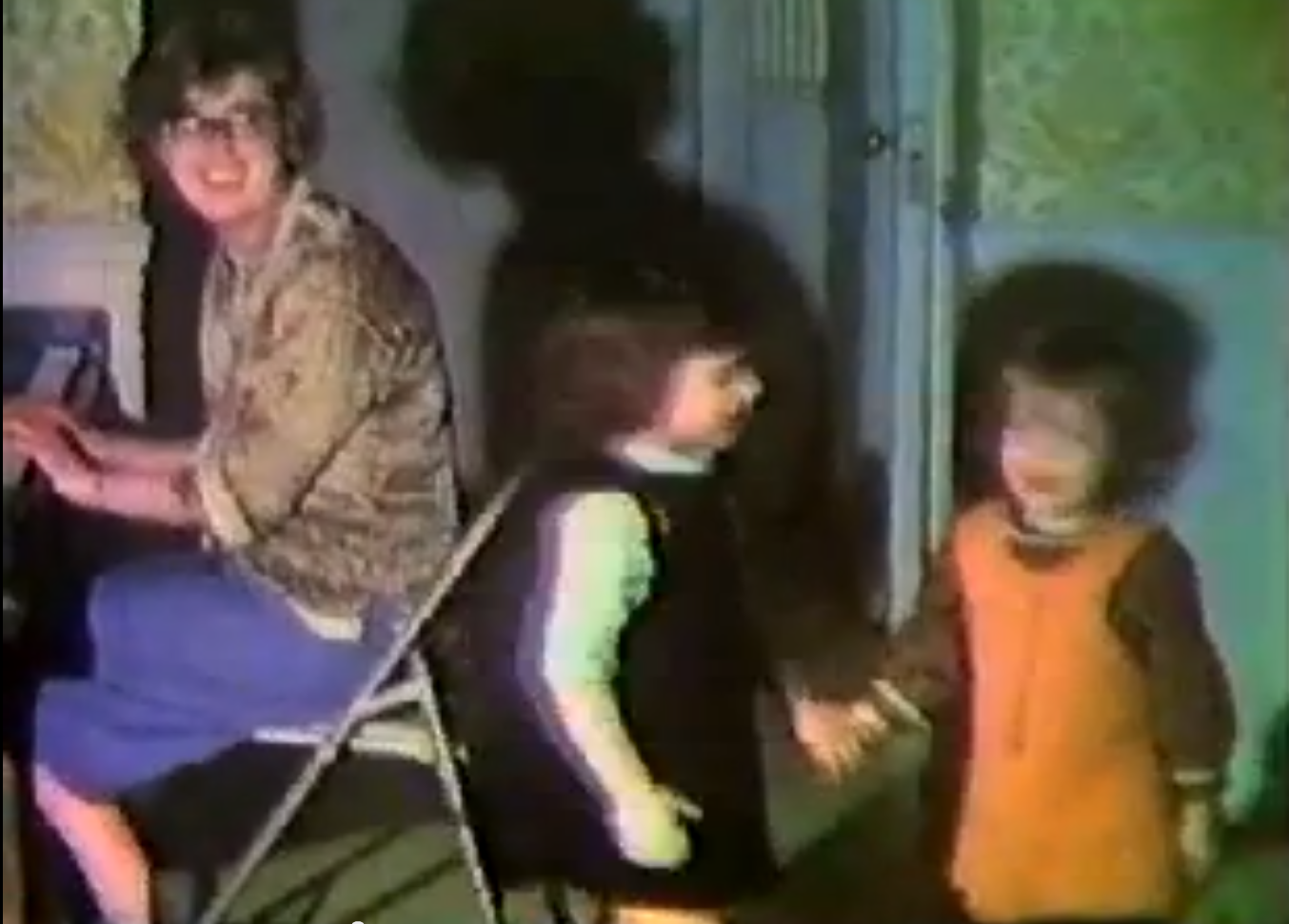 Here's a song and a few sayings that were passed down from my beloved grandmother, a survivor — along with my mum and aunt — of the London Blitz who asked for just two pieces of music to be sung and played at her funeral: "We'll Meet Again", made famous by the war-time singer and "the forces' sweetheart" Vera Lynn, and the theme tune from Match of the Day, one of the BBC's long-running TV shows. That was my Grandma. (And this TV theme will always remind  me of her too.) She taught my Mum this fun little ditty that we grew up with:
"Mairzy doats and dozy doats and liddle lamzy divey, A kiddley divey too, wouldn't you?" This was a novelty song written in the early 40s by Milton Drake, Al Hoffman and Jerry Livingston. Recorded by the Merry Macs on Decca, it became an unlikely pop song hit and reached Number 1 in  March 1944. The words were a nonsensical reworking of this phrase "Mares eat oats and does eat oats and little lambs eat ivy, a kid'll eat ivy too, wouldn't you?", which in turn was apparently based on an English nursery rhyme brought home from school in undecipherable form by one of the songwriters' young children.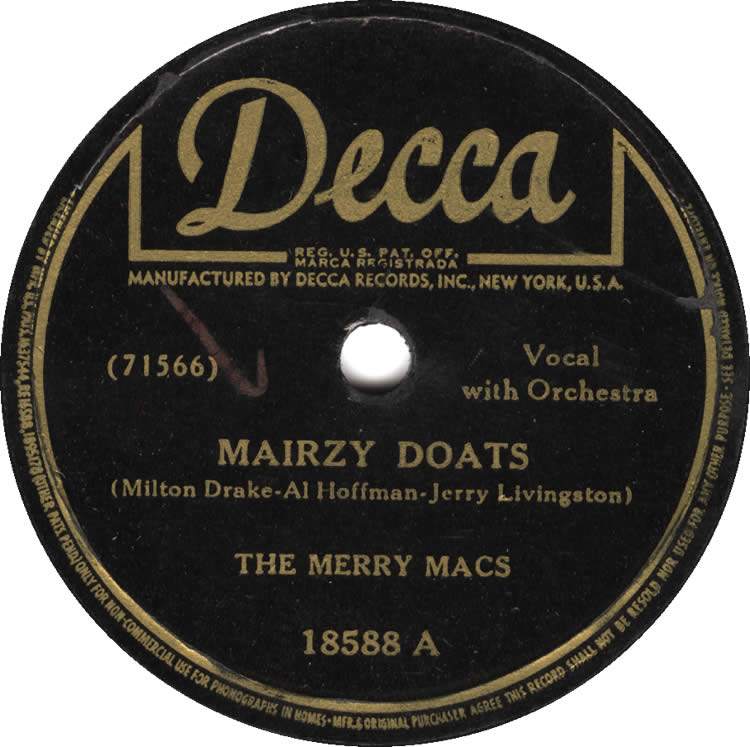 Here are some other sayings that my Grandma passed down through my mum, that delighted our little ears and minds:
"There's a terrible lot to do today that you today must do today and if today you do today what you today must do, you'll find today and every today a better today for us."
"Never trouble trouble till trouble troubles you. For if you trouble trouble, you'll only double trouble, and trouble others too …"
"How many beans make five?  A bean and a half, a bean and a half, half a bean and a bean and a half."
"The other day, upon the stair,
I met a man who wasn't there.
He wasn't there again today.
I wish to God he'd go away."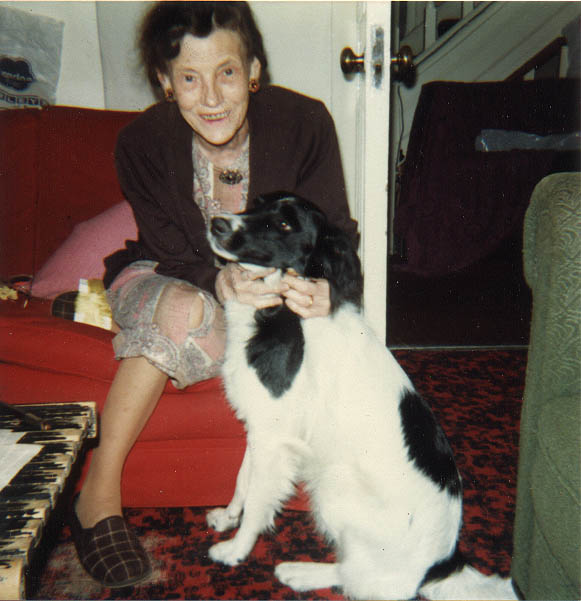 We'll meet again,
Don't know where,
don't know when.
But I know we'll meet again, some sunny day.
Keep smiling through,
Just like you always do,
Till the blue skies drive those dark clouds, far away.
So will you please say hello,
To the folks that I know,
Tell them I won't be long,
They'll be happy to know
that as you saw me go
I was singing this song .
We'll meet again,
don't know where,
don't know when,
But I know we'll meet again, some sunny day.
— Ross Parker