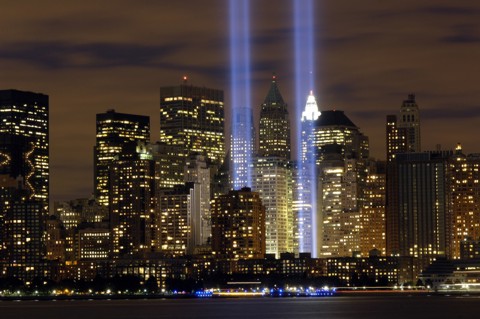 Today is Patriot Day. It is an occasion observed annually on September 11 to remember the nearly 3000 people who died during terrorist attacks in New York, Washington DC and Shanksville, PA in the U.S. on that day in 2001. Many Americans call Patriot Day either "9/11" or "September 11".
On the direction of the President, the U.S. flag is displayed on the homes of Americans, the White House and U.S. government buildings throughout the world. The flag is flown at half-mast. A moment of silence is often observed at 8:46 AM (EDT),  marking the time that the first plane flew into the World Trade Center. Special services or prayer meetings are held, especially in areas particularly affected by the events of the fateful day. Many lay flowers or visit memorials.
Patriot Day shouldn't be confused with Patriot's Day (or Patriots' Day), which commemorates the battles of Lexington and Concord, two of the earliest battles in the American Revolutionary War, which were fought near Boston in 1775. Patriot's Day falls on the third Monday of April (in 2014 it will be on April 21).