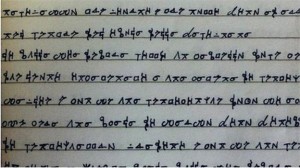 Words and language in the news during the week ending Jan 10: a fading dialect; a strange code with Mafia ties; a new trend in South Korean baby-naming; "strategic sloppiness" in professional communications; a congressman with a punctuation plan; and more …
*   *   *
Missouri's paw-paw French language dialect is fading into silence; Al Jazeera has the story.
*   *   *
Police in Italy say they have deciphered a mysterious coded text that appears to reveal the details of a secretive mafia initiation process, according to a BBC report.
*  *  *
Is "strategic sloppiness" a new way of communicating professionally? According to a piece in Linked In Today, it is. New York magazine writer Kevin Roose explains how spelling mistakes and bad e-mail etiquette can help you get ahead.
*   *   *
The Los Angeles Times asked the question "Does grammar matter?" Read the article to discover the paper's verdict …
*   *   *
"Yahoo malware creates Bitcoin botnet" was one of the BBC News headlines today. How 21st-century is that?
*   *   *
Roll Call describes how Congressman Jared Polis, the Colorado Democrat, has a plan to streamline overly worded thoughts — with tildes.
*   *   *
Parents in South Korea are ignoring traditions and choosing baby names that are easy for foreigners to pronounce. Arirang News, a South Korean broadcaster, says names that are easier to pronounce in English are gaining popularity. The BBC gives more detail.