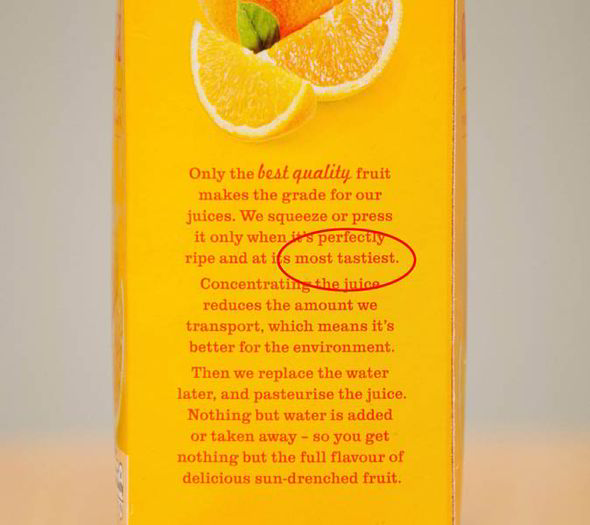 TGIF: That Gerund Is Funky … Words and language in the news this week include a hilarious video about foreign language pronunciation, angst in Germany over an unusual invasion, a slip-up in the supermarket, an interview with Julian Barnes, and an embarrassing spelling mistake.
And find out below the definition of this week's weird word of the week: engastrimyth …  
*   *   *
What your language sounds like to foreigners: a hilarious and spot-on video is published on Huffington Post.
*   *   *
There's angst in Germany over the invasion of American English, according to NPR.  "Languages do tend to affect one another, but the influence of English in Germany is so strong that Germans are having a hard time advancing their own vocabulary," says Holger Klatte of the German Language Society.
*   *   *
The UK supermarket Tesco was taken to task by a schoolboy who complained about a grammatical error he spotted on one of their juice cartons. Describing the fruit contained in Tesco Pure Orange, the food-chain giant boasted: "We squeeze or press it only when it's perfectly ripe and at its most tastiest." That's a double superlative! 15-year-old Albert Gifford pointed out. Find out what Tesco did to rectify matters in this Daily Express article.

*   *   *
Listen magazine talked to British novelist Julian Barnes and asked him whether and how classical music affects his life and his writing. "The music of the sentence is — or should be — vital to any prose writer."
*   *   *
And last but not least: Fox News, while reporting on a spelling bee, misspells spelling bee. Only on Fox. The Chicago Tribune rang the bell on that one.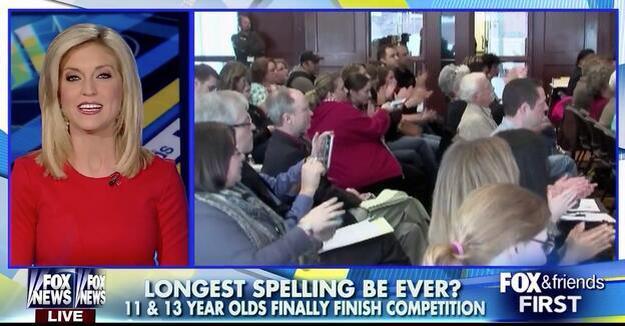 *   *   *
The weird word of the week: engastrimyth: n. a ventriloquist