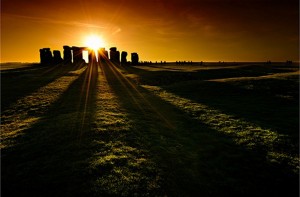 June 21st: the summer solstice.
One of two days in the year when the sun is furthest from the celestial equator, and so the difference in length between night and day is at its greatest: 21st June is the longest day of the year, 21st December the shortest. (But because the duration of the earth's orbit around the sun is slightly longer than the 365-day calendar, those dates can vary.)
On this winter day the sun appears at its lowest point in the sky, and its noontime elevation appears to"stop" in the sky and stay the same for several days before and after the solstice, and so the word finds its origins. Dating back to the mid-13th century, solstice is from the Latin solstitium — "the point at which the sun seems to stand still" — from sol, "sun", stitium, "a stoppage", and sistere, "to stand still". In very early use, the word came into English as sunstead (or, in late Old English, sunstede).
*   *   *
The equinoxes are the days on which the sun is closest to the celestial equator, when day and night are of almost equal duration. They generally land on March 20 (the vernal equinox) and September 22 (the autumnal equinox), with slight variations like the soltices.
Equinox dates from the late 14th century, from the 12th-century Old French equinoce or directly from the Medieval Latin equinoxium, meaning "equality of night (and day)", from the Latin aequinoctium, "the equinoxes", from aequus ("equal") + nox ("night"). The Old English translation was efnniht.
*   *   *
Summer Sun
Great is the sun, and wide he goes
Through empty heaven with repose;
And in the blue and glowing days
More thick than rain he showers his rays.
Though closer still the blinds we pull
To keep the shady parlour cool,
Yet he will find a chink or two
To slip his golden fingers through.
The dusty attic spider-clad
He, through the keyhole, maketh glad;
And through the broken edge of tiles
Into the laddered hay-loft smiles.
Meantime his golden face around
He bares to all the garden ground,
And sheds a warm and glittering look
Among the ivy's inmost nook.
Above the hills, along the blue,
Round the bright air with footing true,
To please the child, to paint the rose,
The gardener of the World, he goes.
— by Robert Louis Stevenson