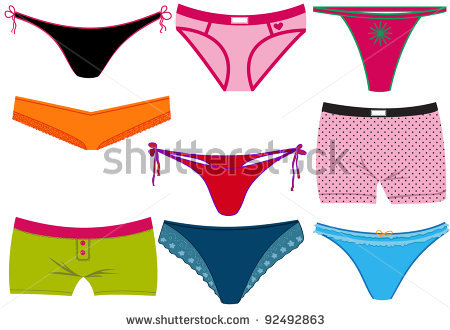 Jockeys and briefs, tighty-wighteys and knickers … Welcome to the world of smalls. That's one handy British nickname (strutting only its plural self in the undieworld) for undergarments that clothe our nether regions: what we all call underwear on both sides of the Atlantic. That's about the extent of our agreement when it comes to naming our drawers and briefs: Brits and Americans tend to part company when chatting about their undies and their intimates, even though we generally understand each other's proverbials…
British girls traditionally buy their knickers at M&S. American gals choose their panties at Victoria's Secret — or, more prosaically, in the intimates section of Walmart. Here's a brief history of ladies' undergarments and their nomenclature, courtesy Wikipedia with some revisions.
Before the French Revolution, women wore long, heavy skirts with petticoats under their dresses. A need to cover the lower regions of a woman's body didn't arise until the Regency era when the lighter, sheer fabrics of the Empire styles of dress created a need for warm undergarments. As a result, women began wearing pantaloons under their dresses — a loose undergarment derived from the ankle-length men's trousers of the same name. By the 1820s, women's pantaloons had evolved into pantalettes, or drawers, a garment consisting of two separate leggings tied at the waist. Within a few decades, the Victorian era ushered in a cultural obsession with modesty, and drawers were re-joined into a single garment, now called knickers (a name borrowed from knickerbockers, a loose style of men's breeches). By the late 1870s, knee-length knickers were widely worn by women and would continue to be popular through the turn of the century. In the early 20th century, reforms in women's fashion put an emphasis on changing women's clothing styles (including underwear) with mobility, hygiene, and personal health in mind. Women's fashion continued to relax throughout the 20th century, and knickers continued to change in style in accordance with shorter skirt lengths, slimmer silhouettes, and new materials such as rayon. Knickers grew shorter with wider, flared legs, eventually morphing into what would become the classic, full-coverage briefs style by the 1930s. As knickers gradually became unrecognizable from their original form, they adopted a new name in the US. By the end of the 1920s, women's underwear was referred to as panties, a term originally used as a diminutive of pants [the American word for trousers]. Use of the term knickers remains prevalent in the UK and New Zealand. The full-coverage panty briefs style continued to change in accordance with contemporary silhouettes and hemlines, but most modern styles would not appear until the 1960s, following the development of more daring clothing fashions (namely the miniskirt) and changing societal views of the female body.
For kicks, here's a glossary of women's knickers:
Briefs: rise to the waist, or just below the navel; have full coverage in the rear.   Classic (or full brief) features sides that extend below the hip. High-cut (or French cut) have sides that are somewhat narrower. Boyleg (or boyshorts) are styled after men's briefs and may have short legs extending below the crotch. Control panties (or control briefs) offer support while giving a slimmer appearance. This type usually contains a stretch material and may extend above the waist.
Hipsters: similar to briefs, but worn lower down on body, with waistband around hips.
Bikinis: sit at hip level, like hipsters, but fabric of side sections is narrower. (String bikini: side sections disappear and waistband consists of string-like material.) Rear coverage of bikini is not as concealing as that of the brief. Bikini is the most widely worn style amongst women worldwide.
Tangas: provide moderate to minimal coverage; back coverage is more than a thong but narrower than a bikini. Waistband is reduced to narrow strip at the sides.
Thongs: have waistband similar to tangas, but rear coverage is mostly cut away. The crotch is extended to the back of the wearer and a narrow strip of fabric fits between the buttocks, becoming wider towards the top.
G-string: has a vertical string at the back connecting crotch to waistband, sometimes featuring a tiny triangle of fabric.
Watch Keira Knightly (a Brit) on the Graham Norton Show talking about pants, in the British sense:
And here she is on (but not in) knickers, and the art of throwing them at rockstars:
Moving swiftly on to tighty-whiteys (or should it be –whities?) … An Englishman struts his Y-fronts, while his American counterpart models his jockey shorts (or jockeys or shorts), as well as his briefs. Both will probably pack underpants for a trip — or boxers, if they prefer the looser garment.
Here's Wikipedia's brief on briefs:
In 1925, Jacob Golomb, founder of Everlast, designed elastic-waist trunks to replace the leather-belted trunks then worn by boxers. These trunks, now known as boxer trunks, immediately became famous, but were later eclipsed by the popular Jockey-style briefs beginning in the late 1930s. Briefs were first sold on January 19, 1935 by Coopers, Inc in Chicago, Illinois. The new undergarment was dubbed the "Jockey" because it offered a similar degree of support as the jockstrap (one style of which is also called jock brief or support briefs). In North America, jockey shorts or jockeys was an often used generic term for men's briefs. More recently, tighty-whiteys has become a commonly used nickname for briefs. In the UK, where briefs were first sold in 1938, the term "jockeys" has not caught on and briefs are often referred to as Y-fronts. The term derives from the genericized trademark "Y-Front", property of Jockey International. It in turn derives from the inverted Y-shape formed by the seams at the front of the underpants. Around 1947, boxer shorts started to gain in popularity again. Since the end of the 20th century, a hybrid called boxer briefs has become popular. Like boxers, they have short legs, but like briefs, they are made of elastic, snug-fitting material. A shorter version of boxer briefs are called trunks.
I recently saw mention of "manties" on a men's fashion blog (man + panties = manties); let's hope that one doesn't catch on. It just doesn't seem right.
It isn't just our smalls and jockeys that divide English and American underwearers: here are a few other undergarments — and related terms — that we label differently.
Brit. English: vest*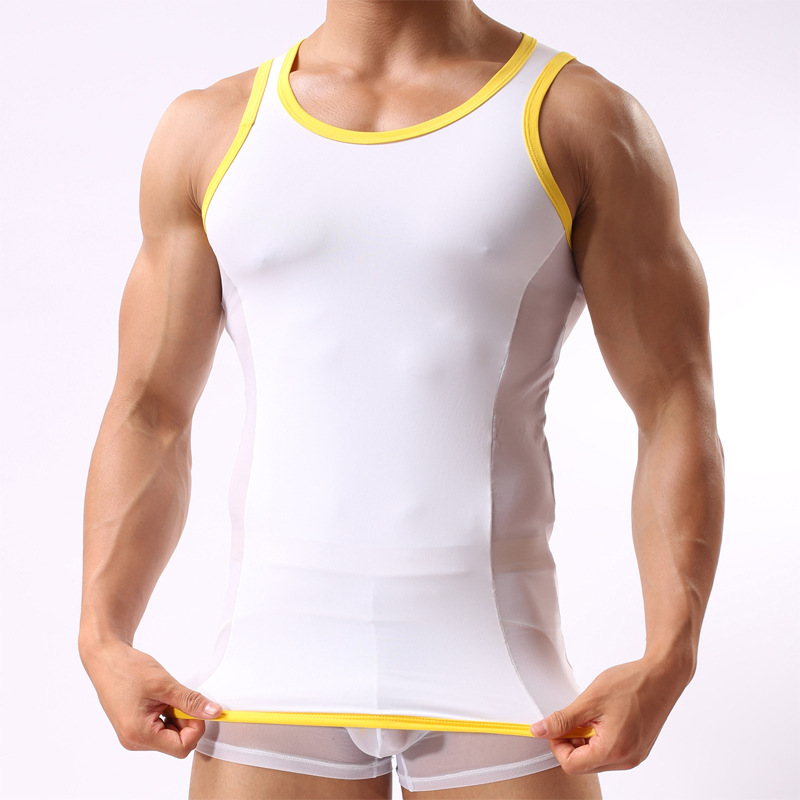 Amer. English: undershirt
Br.: tights (more sheer than approx 40 dernier)    
    Am.: pantyhose
Br.:  ladder (in tights)       
       Am.:  run or runner in pantyhose
Br.: suspenders** or suspender belt (to hold up stockings)
  Am: garter belt
~~~~~~~~~
* What Americans call a vest, Brits call a waistcoat   
** What Americans call suspenders, Brits call braces ***      
*** What Americans call braces, Brits do too