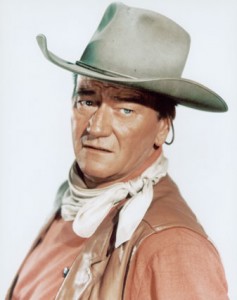 TGIF: That Gerund Is Funky …
In language and grammar news this past fortnight: a fight over the name Duke (which doesn't include Bo, Luke or Daisy); the grammar of police shootings; a possible typo in the Declaration of Independence; the effect of bad spelling on sales – but how it can also save you a fortune; and a treasure-trove of lists from mental_floss — which include ancient slang for sex and origins of nursery rhymes and state names.
~~~
John Wayne's heirs are duking it out in court with Duke University (in North Carolina) to use his longstanding nickname — "Duke" — to market a line of bourbon. The BBC has the report. 
*   *   *
An enlightening story was published in the Washington Post about "police agencies engaging in linguistic gymnastics to publicly deflect responsibility for police shootings" (and that means shootings by — not of — police officers) …
*   *   *
Is there really a typo in the Declaration of Independence? A scholar believes that there is a significant error in the official transcript of the document produced by the National Archives and Records Administration: it involves a period that appears right after the phrase "life, liberty and the pursuit of happiness." Outside the Beltway explains this punctuation oopsy-daisy.
*   *   *
"Poor spelling decreases sales, impacts credibility and is getting worse." That's according to Charles Duncombe, an online entrepreneur, who claims that sales can drop by half when there's a spelling mistake online, partly because misspellings can cause consumers to associate poor spelling with a company's lack of credibility. That's what Bizcommunity.com reports. But bad spelling can also save the consumer a bob or two. As Independent.ie explains, "sellers often misspell words when putting something up for auction online. As most shoppers don't search for something using the wrong spelling, misspelt items are often overlooked. The seller's item isn't picked up, the item doesn't get much (if any) bids – and the seller is more likely to settle for a lower price as a result."
*   *   *
And here are some lovely lists from mental_floss to do with words and language: knock yourself out …
Dark origins of nursery rhymes
31 adorable slang terms for sexual intercourse from the last 600 years
How all 50 states got their names
12 letters that didn't make the alphabet
*   *   *