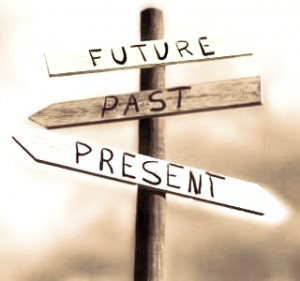 We often beat ourselves up about living too much in the past or the future and not "living in the moment". But it's interesting to see that we speak and write in the present tense more than we probably realize …
In my work as a publicist, I'm often talking and writing about things that will happen in the future: a work that is going to be performed or premiered, a CD scheduled to be released, an award to be bestowed. But nowadays — in this age of low attention spans and instant gratification — everything has to sound imminent or immediate in order for it to receive attention or make any impact. So we talk in the present tense — even about the future: "She sings next month"; "he releases the CD in October"; "he opens the Met's season in 2015". A press release written strictly and entirely in the future tense, using a lot of wills, would be tiresome indeed: as well as being more removed in time, it is necessarily more wordy and repetitive. Snappy it certainly isn't.
As well as its sense of immediacy, the present tense has the advantage of linguistic expediency. English speakers don't have the choice of simple future conjugations the way the French and others do ("j'irai demain"); officially we're meant to employ extra words (in this case modal verbs) in addition to the main verb to indicate the future: "he will sing", "the label is going to release a CD". Our conjugated present tense is much shorter: "he sings"; "the label releases". But thankfully for us marketeers, and confusingly for anyone trying to learn English as a foreign language, we actually do use the present tense — in common standard and not just colloquial English — to talk about the future, especially if we're discussing something that is happening [there it is again — ed.] fairly reliably or imminently: "I'm having dinner with him tomorrow", "he's giving a speech next week", or "the bus leaves at 3 in the morning". Try explaining that rule to a non-English speaker ….
It's not just the future that so often gets shifted verbally into the present: the past is also brought to life by fast-forwarding it into our current time zone, where it can live and breathe more vividly. The "historic" or "historical" present (also called "dramatic" or "narrative"), describing past events in the here and now, is often seen in fiction, in news and marketing (especially in headlines), and even in everyday conversation. "During our meeting last week, he was so stubborn. He tells me he's not going to change his mind, so I end up walking out of the room."
In fact, the veteran British TV broadcasters Melvyn Bragg and John Humphrys had a recent public spat about just this, with Humphrys calling Bragg's use of the historic present on his radio show "irritating", "pretentious" and "bogus".  (You can read about their heated but amicable linguistic feud in this Guardian article.) "To say Shakespeare buys a house in Stratford is not fine because he bought it an awfully long time ago," Humphrys argues quite persuasively. "It's daft, I think." Calling Humphrys's position "fogeyish", Bragg defends his use of the narrative present, saying it has been used on his program for more than 20 years "to make events seem more vivid". And he points out equally convincingly that this use of the present tense isn't new: the historic present has a historic past, and it has drifted in and out of the English language for hundreds of years.
Bragg has a point, and is backed up by fine literary sources. Take David Copperfield by Charles Dickens: in the ninth chapter, the author's account of an episode at a funeral is brought vividly to life by shifting it forward in time:
"If the funeral had been yesterday, I could not recollect it better. The very air of the best parlour, when I went in at the door, the bright condition of the fire, the shining of the wine in the decanters, the patterns of the glasses and plates, the faint sweet smell of cake, the odour of Miss Murdstone's dress, and our black clothes. Mr. Chillip is in the room, and comes to speak to me. 'And how is Master David?' he says, kindly. I cannot tell him very well. I give him my hand, which he holds in his."
Did either Bragg and Humphrys triumph in their tense stand-off? It seems not: each continues to stand their ground. But as The Guardian noted, "While no side was declared a winner in the great grammar battleground, Humphrys and Bragg instead reached a friendly truce. They did, however, agree on one thing. "Historic or historical?" Stourton put to them both. "I would say historic," answered Bragg. "So would I," added Humphrys. Peace at last."
~~~