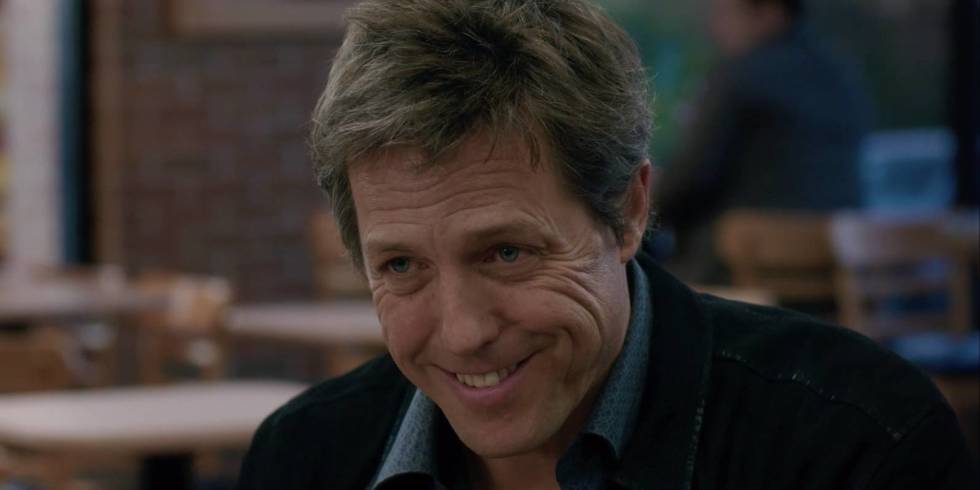 TGIF. In language usage and abusage news this fortnight: Hugh Grant's new character offers an English lesson; David Remnick talks about the New Yorker's copy-editors; a French MP is fined for using sexist grammar; a new documentary about grammar; and the superiority of paper over digital in book-reading …
*   *   *
Do you know what assonance means? Or alliteration? Hugh Grant does, and he explains all in his role as an English teacher in his new rom-com movie, The Rewrite. Cosmopolitan has the exclusive clip (but listen carefully, since he has a mouthful of French fries and he's more focused on flirting than teaching at this point …)
*   *   *
David Remnick, editor of the New Yorker, joined WNYC's Brian Lehrer to discuss the upcoming New Yorker Festival. He spent some time talking about the magazine's legendary fastidious proofreading processes, and his fabulous copy-editors ("they're kind of geniuses at what they do"). Oh, and they discussed the Oxford comma.
*   *   *
Will "cisgender" survive? As Paula Blank writes in The Atlantic, "the linguistic complement to "transgender" has achieved some popularity, but faces social and political obstacles to dictionary coronation."
*   *   *
"A French MP has been reprimanded and fined for using allegedly sexist grammar in the Paris parliament. In a bizarre case which will be of particular interest to British people who have struggled over 'le' and 'la' during torturous French lessons, Julien Aubert called a senior colleague 'Madame le President'. 'Madame le President' is technically correct, because all nouns in France have a sex, and 'president' is a male word." The Daily Mail reports.
*   *   *
The Los Angeles Times reports that a new documentary, Grammar Revolution, is now out, featuring star grammarians such as Columbia University professor John McWhorter; Brad Hoover of the website Grammarly; Harvard linguist Steven Pinker; Lucy Ferriss, writer in residence at Trinity College; and Noam Chomsky, the 85-year-old political activist who began his career as a linguist. "Why is grammar a controversial subject? Why has it faded out of many schools? Hear from teachers, students, grammarians, CEOs, and linguists, and discover why grammar is an important subject that needs to be reconsidered, reconceived, and revived".
*   *   *
Rock, paper, Kindle? Paper seems to trump Kindle when it comes to "good" reading, and here's some scientific proof. A 2014 study found that readers of a short mystery story on a Kindle were significantly worse at remembering the order of events than those who read the same story in paperback. Lead researcher Anne Mangen of Norway's Stavanger University concluded that "the haptic and tactile feedback of a Kindle does not provide the same support for mental reconstruction of a story as a print pocket book does." Mic.com has the story.
*   *   *
And here's a bit of fun:
Take the "How good is your British English?" quiz brought to us by Oxford University Press.
Check out all the different names for French fries around the world on mental_floss …
Are you called Nigel or Nigella? Hermione or St John? If so, you're almost certainly living in — or an import from — England's green and pleasant lands. BBC America brings us 10 British boys' names and 10 girls' names that haven't made it successfully across the Atlantic. Eat your hearts out, Basil and Poppy …
*   *   *