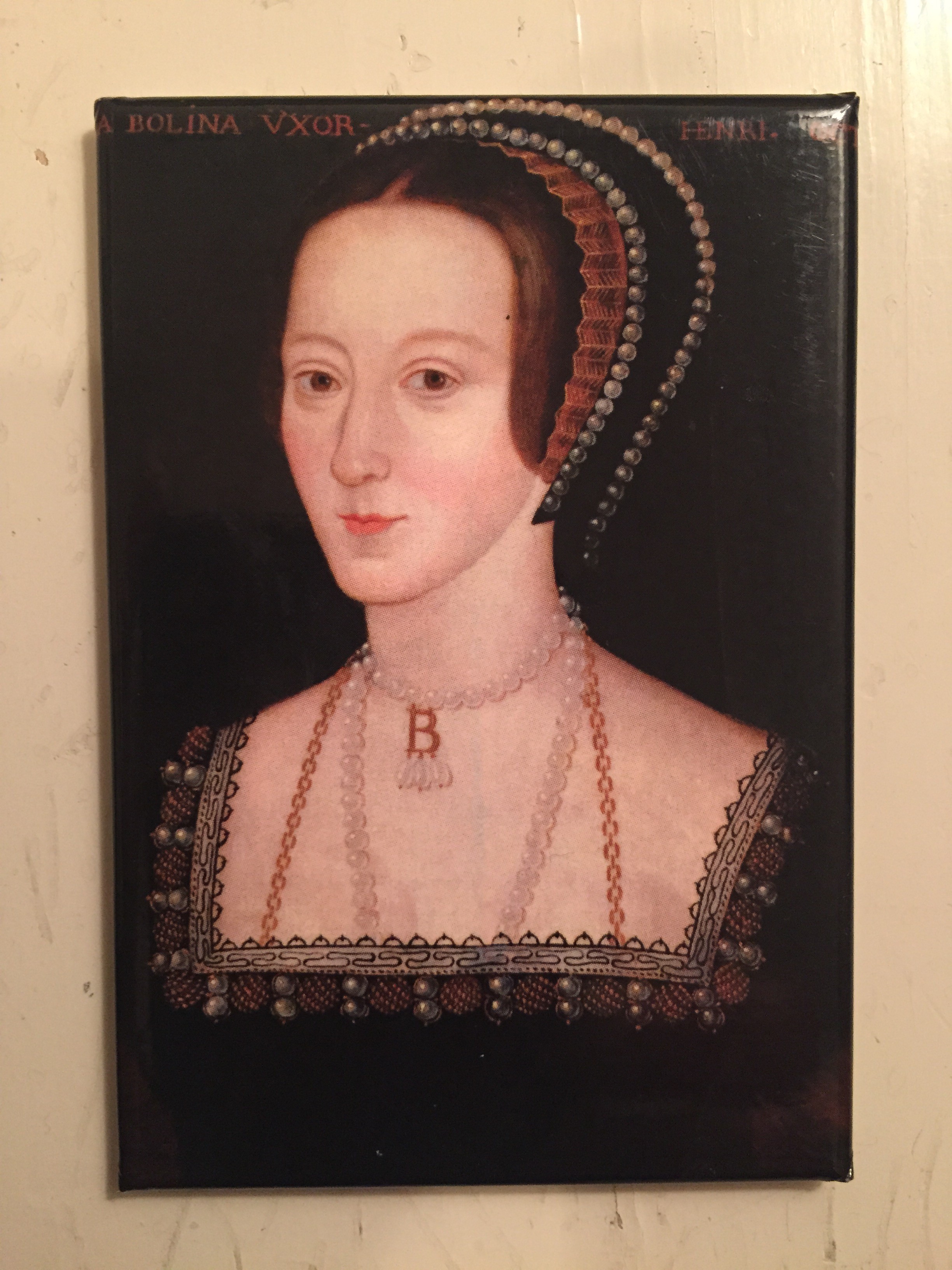 In a scene towards the end of the Royal Shakespeare Company's riveting production of Wolf Hall (part II), which has recently been transplanted from London's West End to Broadway, one of the king's guards strides downstage and announces loudly and gravely the name of his newly arrested charge: "Boleyn!" (And just in case the history books haven't spoiled it for you yet, I won't specify which member of the Tudor family bearing this name is about to be escorted to their new lodging in the Tower of London.) Curiously, in pronouncing the identity of his Boleyn prisoner, the guard places careful emphasis on the first syllable, so that the name rings out over a hushed audience in the Winter Garden Theater in a way we're not used to hearing it: "BULL-uhn!".
Bullen (usually pronounced as above, i.e. rhyming with woolen) is how the noble English Boleyn family that was especially prominent during the Tudor period would have originally spelled its name; Boleyn is the Francization of that traditional English surname. The family's most famous member was the fiery Anne, who would become the second wife and Queen Consort of King Henry VIII; her sister, Mary, was the king's long-term mistress, and her brother, George, played an important role in the young queen's ultimate downfall. Their father, Thomas Boleyn, 1st Earl of Wiltshire, was a noted diplomat and politician, and their great grandfather — Geoffrey Boleyn — had been the Lord Mayor of London in the mid-1450s. At the time of Anne's birth at the turn of the 16th century, the Boleyn family was considered one of the most respected in the English aristocracy.
With only a few educated people able to read or write in Tudor days, spelling was mainly phonetic — i.e. it was guessed at, based on the way a word or name was pronounced at the time. So there wasn't any real consistency or standardization in spelling in those days, even in names: the spelling of a person or family's name could vary considerably, depending on the place and circumstance and who was voicing it. At the court of Margaret of Austria in the Netherlands, for example, where the young Anne Boleyn served as a lady-in-waiting, her surname is listed as Boullan; she is also sometimes referred to as Anna Bolina, the Latinized form that was used to name most of her portraits. It's widely thought that the Tudor Boleyns chose to "Frenchify" their rather prosaic English name, Bullen, some time in the 15th century, before they came to prominence during the reign of Henry VIII. And it follows logically that the original less exotic spelling of their name reflected its pronunciation at that time: with the stress on the first syllable, rather than as "buh-LIN", which is how most of us say it today, with the initial "b" sound almost swallowed.
According to some commentators on TudorHistory.org, the changing spelling of the name Boleyn might have been linked to the shifting spellings of the French town of Boulogne. In the medieval Chronicles of Calais, the city is spelled Boleyn; in Letters & Papers, the city is fairly consistently spelled Bullen. It has been suggested that the family originated with a Baldwin de Bolon, from Boulogne. (See Joanna Denny's Anne Boleyn, Chapter 2.) 
Modern dictionaries tend to favor our more familiar "buh-LIN" pronunciation, although both versions are often listed. Oxford Dictionaries list both for American English — as does Merriam-Webster — but only "buh-LIN" for British English. The pronunciation web site Ingolo stresses the first syllable. The guard in Wolf Hall seemed pretty confident about rhyming the name of his new charge with woolen — and that poor doomed soul seemed to know exactly who the guard was talking about when their name was called…
*   *   *
Meanwhile, here are some quotations about our favorite, most famous, and some might argue most unfairly maligned Boleyn — the Anne of a thousand days*:
"I will not give them up to a person who is the scandal of Christendom and a disgrace to you." — Catherine of Aragon, responding to Henry's request for her to pass her jewels to Anne Boleyn
"Here was [a] fresh young damsel, that could trip and go." — William Forrest, a chaplain to Queen Mary
"The King's Grace is ruled by one common stewed whore, Anne Boleyn, who makes all the spirituality to be beggared, and the temporality also." — Abbot of Whitby, 1530
"I have never had better opinions of woman than I had of her." — Thomas Cranmer, Archbishop of Canterbury
"For her behaviour, manners, attire and tongue she excelled them all." — Lancelot de Carles
"He's marrying the perfect wife for him [Jane Seymour], and he's learned that he doesn't need an Anne Boleyn – another partner in crime to help him take over the world. He just needs a wonderful, supportive wife to take care of him when he comes home from a hard day beheading people." — Jonathan Rhys Meyers
"O Death, rock me asleep, bring me to quiet rest, let pass my weary guiltless ghost out of my careful breast." — Anne Boleyn
* most quotes courtesy the Anne Boleyn Files