In the news … is back by popular demand. And to kick off the New Year, we have some exciting news items on the following subjects: how to speak development jargon; is it a punctuation error or a spoiler in the new Star Wars opening crawl?; a teacher giving a Twitter troll a lesson in tolerance and grammar; some evidence that grammar might be a basic instinct; and finally, the insincerity of punctuation. Really.
"In the opening crawl for Star Wars: The Force Awakens, there appears to be a punctuation error. If there isn't, it's one hell of a hint as to what might be coming in the next two episodes. … The crawl reads, 'With the support of the Republic, General Leia Organa leads a brave resistance. She is desperate to find her brother Luke and gain his help in restoring peace and justice to the galaxy.'" Read the Arts.Mic article to see content editor Joel Topcik's explanation for why two commas can make all the difference. (And Glossophilia will cover this in more detail in the next couple of days.)
*   *   *   *
"From cluster meetings to sunsetting: how to speak development (jargon). … Pity the poor development professional. Not only are we underpaid and under-appreciated compared to our friends in the private sector, now we've started to lose our language, as aid-speak has become overrun with corporate buzzwords." Michael Kleinman explains in The Guardian "what you need to know to keep your organisation afloat."
*   *   *   *   *
"It turns out that the best way to punctuate a text message may be by not punctuating it at all: Researchers at Binghamton University have found that ending your text with a period — full stop — may make you seem more insincere." NPR reveals why you should watch the way you punctuate your text messages. Period.
*   *   *   *   *
"In the 1960s, linguist Noam Chomsky proposed a revolutionary idea: We are all born with an innate knowledge may have been right all along." Medical Daily has the story.
*   *   *   *   *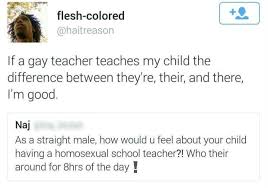 "An anti-gay Twitter troll was schooled by a teacher on tolerance (and grammar) after he asked this hypothetical question: 'As a straight man, how do u feel about your child having a homosexual teacher!? Who their around for 8 hours of the day!' aspiring rapper @Naj_Mullah asked his followers on 30 December. haitreason, a teacher from Texas, had this amazing response: 'If a gay teacher teaches my child the difference between they're, their, and there, I'm good,'" Gay Star News has the full story.
*   *   *   *   *