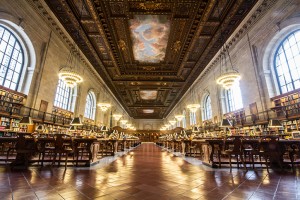 TGIF: That Gerund Is Funky. In this month's language usage news, we have a high-profile hold-out on the use of the singular "their"; the word okay and its origins; a list of horrid words; a vulgar word finds its way into the OED; a spelling mistake that thwarted a bank heist; bad spelling used for effect in an ad campaign; Donald Trump's 6th-grade linguistic skills; and a spelling quiz from a fine New York institution. (Warning: explicit vocabulary ahead.)
The recently legitimized singular "their" is still shunned by at least one publication: the New Yorker. It just won't go there — yet. As Mary Norris explained in a recent issue of the magazine: "Many ACES stalwarts—copy editors, journalists, grammarians, lexicographers, and linguists—stand ready to embrace the singular "their." But not us. We avoid it whenever we can."
*   *   *   *   *
"A spelling mistake in an online bank transfer instruction helped prevent a nearly $1bn heist last month involving the Bangladesh central bank and the New York Fed, banking officials said." Read more in The Guardian's report of this extraordinary case.
*   *   *   *   *
Have you ever wondered about the etymology of okay — especially in the context of "is someone OK?" Well you don't need to wonder any more, because the Paris Review gives you the scoop. (Glossophilia described one theory about the word's origins in an earlier post on words originating in Africa.)
*   *   *   *   *
"An academic paper has put some presidents and political candidates' language on trial. "A Readability Analysis of Campaign Speeches From the 2016 US Presidential Campaign," released this week by Carnegie Mellon University, analyzed stump speeches to measure their "readability" — the reading level of an address, ranked from first grade to 12th grade. And, according to a summary from the university, the study found "most candidates using words and grammar typical of students in grades 6-8, though Donald Trump tends to lag behind the others." Read the full story in the Washington Post.
*   *   *   *   *
"The new Miller Lite ad campaign concept from TBWA/Chiat/Day in Los Angeles hinges in large part on the unconventional spelling of "Lite," which the agency cleverly uses to suggest the beer is spelled differently because it's brewed differently." Really? Isn't it just because that's the way everyone spells light nowadays when it follows the noun it's qualifying? The Chicago Business Journal has this story.
*   *   *   *   *
"From alright to zap: an A-Z of horrible words" is one of The Guardian's offerings in the Books section. "Is 'epic fail' an epic failure, should 'to hot-desk' make us hot under the collar, and is 'like' to be, like, deplored?"
*   *   *   *   *
"Four different forms of the word 'cunt' have been added to the Oxford English Dictionary, and they're all spectacular." Jezebel has the scoop.
*   *   *   *   *
"Are you up for the [New York Public] Library's official spelling challenge? No spell check. No autocorrect. No phoning a friend. See if you can get the spelling right on some of the most commonly fumbled words. Fill in the blanks of our sample sentences by selecting the correct spelling. Ready… set…spell!"
~~~~~