In case anyone is still wondering about last week's writers quiz, here are the answers below. Congratulations to Virginia Barder (full disclosure: she's my sis, but I promise she didn't get any inside info or extra clues) for being the first to solve it, and an honorary mention to Olivia, who solved the whole quiz within the space of about 10 minutes. 
1. What do these four writers have in common? (Clue: where)
Voltaire
Oscar Wilde
Victor Hugo
D.H. Lawrence
All four writers wrote major works in exile, and all four of them died in France.
2. What do these five writers have in common? (Clue: names)
Stephen King
Joyce Carol Oates
C. S. Lewis
Louisa May Alcott
Charlotte Bronte
All five writers wrote (or have written) under pseudonyms, as well as in their own names.
3. What do these three writers have in common? (Clue: character)
Henry James
Judith Krantz
F. Scott Fitzgerald
All three writers had a major character called Daisy in one of their novels — a title character in two cases.
4. What do these four writers have in common: (Clue: movie adaptation)
Graham Greene
Dylan Thomas
Edward Albee
Christopher Marlowe
All four of them wrote books that were adapted for movies starring Richard Burton and Elizabeth Taylor.
Bonus question: What do these five writers have in common? (Clue: name of John Le Carré regulars in vanity publication?)
Leo Tolstoy
George Bernard Shaw
Henrik Ibsen
Anthony Trollope
Mark Twain
All five writers were depicted in Vanity Fair's famous "Spy" cartoon series. Only two of them — Trollope and Twain — were actually drawn by "Spy" himself (the portrait artist and caricaturist Sir Leslie Ward), but the series came to be known by his name since he was the most prolific of the participating artists. Below are details of the artists, captions and dates of publication of each of the cartoons. And make sure to read the amusing story about Trollope's experience with Spy/Ward below, as told by Darevill's Rare Prints. I can't seem to trace the real name of "Snapp": please note it in the comments section below if you happen to know it.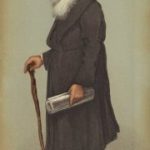 Leo Tolstoy — by Snapp, "War & Peace", 1901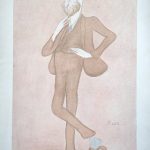 George Bernard Shaw — by Ruth (Max Beerbohm), "Magnetic, he has the the power to infect almost everyone with the delight that he takes in himself", 1905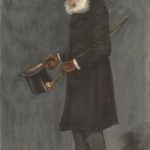 Henrik Ibsen — by Snapp, "The Master Builder", 1901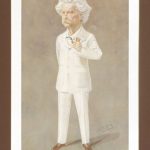 Mark Twain (aka  Samuel Langhorne Clemens) — by Spy,  "Below the Mark" [c. 1908]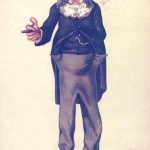 Anthony Trollope — by Spy, "A Novelist", 1873
"Anthony Trollope had been exceedingly disturbed by his appearance in Vanity Fair. Spy and Trollope were invited to the house of a mutual friend, and after returning home, Ward sketched the novelist. The caricature, one of Ward's earliest works, appeared on 5 April 1873. Trollope, according to Ward, was incensed and especially angry over Spy's emphasis of Trollope's right thumb. John Pope Hennessy judged the caricature 'most unflattering' and said that it made Trollope look like 'an affronted Santa Claus.' Yet Pope Hennessey admitted, as did a majority of Trollope's contemporaries, that to have one's caricature in Vanity Fair was 'public honour no emminent man could well refuse.'" (from Darevill's Rare Prints)
~~~~~
All images courtesy Wikimedia Commons or amazon.com