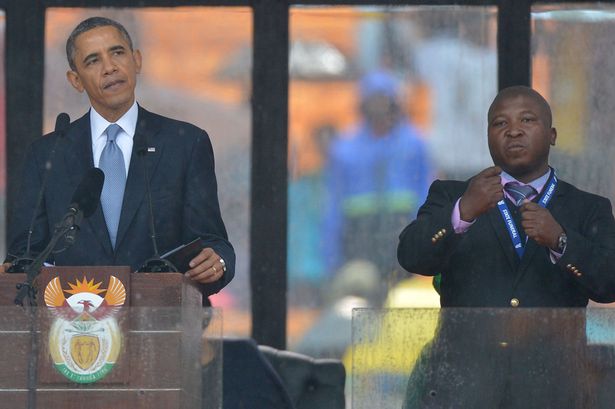 Words and language in the news this week: a sign language interpreter meltdown; Yankee driving lingo; two tweets that could have used an edit; and Cormac McCarthy on punctuation …
*   *   *
When the sign language interpreter at Nelson Mandela's memorial service in Johannesburg started to "sign rubbish", complaints started to flood in from deaf viewers around the world. According to the BBC, "Wilma Newhoudt-Druchen, the country's first deaf female MP, tweeted: 'ANC-linked interpreter on the stage with dep president of ANC is signing rubbish. He cannot sign. Please get him off.'" Thamsanqa Jantjie, the rogue interpreter, explained that he had a schizophrenic episode and started to hear voices in his head.
*   *   *
BBC America's Mind the Gap blog published a very useful British hitchhiker's guide to understanding America's driving lingo. From jaywalking to tailgating, you can get your Yankee drive-speak on.
*   *   *
Slate.com's Lexicon Valley blog argued a case for the Oxford comma by publishing a Sky News tweet reporting on the Mandela memorial. "Top stories: World leaders at Mandela tribute, Obama-Castro handshake and same-sex marriage date set…" was the tweet. "A handshake and a proposal" was Slate's interpretation of it.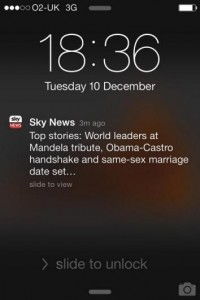 *   *   *
Cormac McCarthy takes a minimalist approach to punctuation. "James Joyce is a good model for punctuation. He keeps it to an absolute minimum. There's no reason to blot the page up with weird little marks. I mean, if you write properly you shouldn't have to punctuate." Open Culture examines McCarthy's three punctuation rules and how they all go back to Joyce.
*   *   *
When the University of Michigan found out that it was ranked number 12 in a world ranking, it sent out this tweet: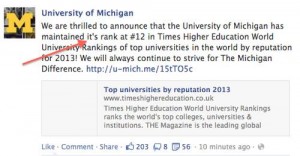 Ooops! Not so hot in the spelling rankings, it seems …
*   *   *