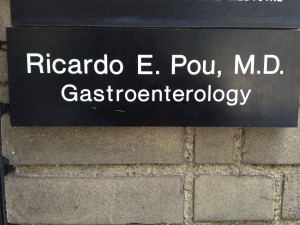 An appropriate name for this type of doctor ... (seen on Manhattan's Upper West Side)
TGIF. Language and usage in the news this week: a missing comma in a tweet; how to pronounce a footballer's name; Zach Braff's bad grammar; and a different typ(o) of freedom …
*   *   *
AP sent the Twittersphere into a frenzy when it left an important comma out of one its tweets:

Yes, we do need commas. Even when we're tweeting …
*   *   *
Zach Braff used bad grammar on purpose in the title of his new movie, Wish I Was Here. As Braff explained at a recent event in NYC, his misuse of the subjunctive in his title was, in fact, intentional. "'The whole film is about a dad who's not an academic trying to teach his kids, and his kids know more than he does," he said. "His daughter is constantly correcting him when he says who instead of whom; and so the title, although it has another meaning, we grammatically did it incorrect on purpose, because it's about a father who is actually learning from his children who are brighter than he is." He did it incorrect on purpose? New York's Vulture blog has the story. 
*   *   *
Someone didn't do their proofreading. At Sunday's Freedom Ride commemorating Nelson Mandela Day last week in Johannesburg, t-shirts issued to the cyclists bore an ominous message from the leader himself. South Africa's Independent caught the typo …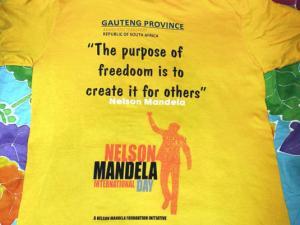 *   *   *