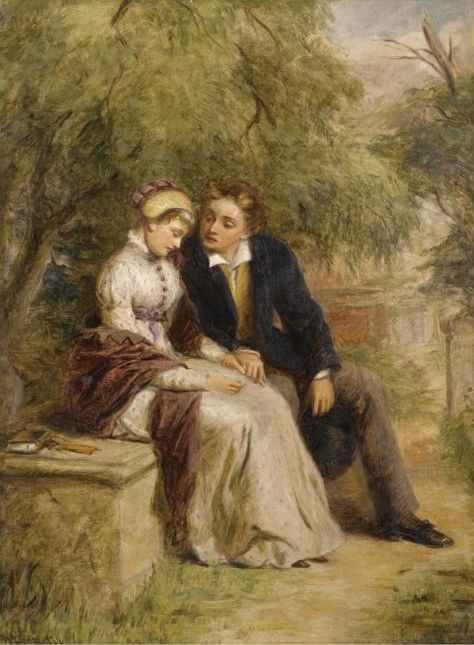 They Flee From Me
They flee from me that sometime did me seek
With naked foot, stalking in my chamber.
I have seen them gentle, tame, and meek,
That now are wild and do not remember
That sometime they put themself in danger
To take bread at my hand; and now they range,
Busily seeking with a continual change.
Thanked be fortune it hath been otherwise
Twenty times better; but once in special,
In thin array after a pleasant guise,
When her loose gown from her shoulders did fall,
And she me caught in her arms long and small;
Therewithall sweetly did me kiss
And softly said, "Dear heart, how like you this?"
It was no dream: I lay broad waking.
But all is turned thorough my gentleness
Into a strange fashion of forsaking;
And I have leave to go of her goodness,
And she also, to use newfangleness.
But since that I so kindly am served
I would fain know what she hath deserved.
— Sir Thomas Wyatt
Untitled
Western wind, when wilt thou blow,
The small rain down can rain.
Christ, if my love were in my arms,
And I in my bed again.
— Anon, 16th century
The Silent Lover 
Passions are likened best to floods and streams:
The shallow murmur, but the deep are dumb;
So, when affections yield discourse, it seems
The bottom is but shallow whence they come.
They that are rich in words, in words discover
That they are poor in that which makes a lover.
Wrong not, sweet empress of my heart,
The merit of true passion,
With thinking that he feels no smart,
That sues for no compassion;
Since, if my plaints serve not to approve
The conquest of thy beauty,
It comes not from defect of love,
But from excess of duty.
For, knowing that I sue to serve
A saint of such perfection,
As all desire, but none deserve,
A place in her affection,
I rather choose to want relief
Than venture the revealing;
Where glory recommends the grief,
Despair distrusts the healing.
Thus those desires that aim too high
For any mortal lover,
When reason cannot make them die,
Discretion doth them cover.
Yet, when discretion doth bereave
The plaints that they should utter,
Then thy discretion may perceive
That silence is a suitor.
Silence in love bewrays more woe
Than words, though ne'er so witty:
A beggar that is dumb, you know,
May challenge double pity.
Then wrong not, dearest to my heart,
My true, though secret, passion:
He smarteth most that hides his smart,
And sues for no compassion.
— Walter Raleigh
Corinnae Concubitus
In summer's heat, and mid-time of the day,
To rest my limbs upon a bed I lay;
One window shut, the other open stood,
Which gave such light as twinkles in a wood,
Like twilight glimpse at setting of the sun,
Or night being past, and yet not day begun;
Such light to shamefaced maidens must be shown,
Where they may sport, and seem to be unknown:
Then came Corinna in a long loose gown,
Her white neck hid with tresses hanging down,
Resembling fair Semiramis going to bed,
Or Lais of a thousand wooers sped.
I snatched her gown; being thin, the harm was small,
Yet strived she to be covered therewithal;
And striving thus, as one that would be cast,
Betrayed herself, and yielded at the last.
Stark naked as she stood before mine eye,
Not one wen in her body could I spy.
What arms and shoulders did I touch and see,
How apt her breasts were to be pressed by me!
How smooth a belly under her waist saw I,
How large a leg, and what a lusty thigh!
To leave the rest, all liked me passing well;
I clinged her naked body, down she fell:
Judge you the rest: being tired she bade me kiss;
Jove send me more such afternoons as this.
— Christopher Marlowe
Air and Angels
Twice or thrice had I lov'd thee,
Before I knew thy face or name;
So in a voice, so in a shapeless flame
Angels affect us oft, and worshipp'd be;
Still when, to where thou wert, I came,
Some lovely glorious nothing I did see.
But since my soul, whose child love is,
Takes limbs of flesh, and else could nothing do,
More subtle than the parent is
Love must not be, but take a body too;
And therefore what thou wert, and who,
I bid Love ask, and now
That it assume thy body, I allow,
And fix itself in thy lip, eye, and brow.
Whilst thus to ballast love I thought,
And so more steadily to have gone,
With wares which would sink admiration,
I saw I had love's pinnace overfraught;
Ev'ry thy hair for love to work upon
Is much too much, some fitter must be sought;
For, nor in nothing, nor in things
Extreme, and scatt'ring bright, can love inhere;
Then, as an angel, face, and wings
Of air, not pure as it, yet pure, doth wear,
So thy love may be my love's sphere;
Just such disparity
As is 'twixt air and angels' purity,
'Twixt women's love, and men's, will ever be.
— John Donne
A Valentine
For her this rhyme is penned, whose luminous eyes,
Brightly expressive as the twins of Leda,
Shall find her own sweet name, that nestling lies
Upon the page, enwrapped from every reader.
Search narrowly the lines!- they hold a treasure
Divine- a talisman- an amulet
That must be worn at heart. Search well the measure-
The words- the syllables! Do not forget
The trivialest point, or you may lose your labor
And yet there is in this no Gordian knot
Which one might not undo without a sabre,
If one could merely comprehend the plot.
Enwritten upon the leaf where now are peering
Eyes scintillating soul, there lie perdus
Three eloquent words oft uttered in the hearing
Of poets, by poets- as the name is a poet's, too,
Its letters, although naturally lying
Like the knight Pinto- Mendez Ferdinando-
Still form a synonym for Truth- Cease trying!
You will not read the riddle, though you do the best you can do.
— Edgar Allan Poe
To His Mistress Going to Bed
Come, Madam, come, all rest my powers defy,
Until I labour, I in labour lie.
The foe oft-times having the foe in sight,
Is tir'd with standing though he never fight.
Off with that girdle, like heaven's Zone glistering,
But a far fairer world encompassing.
Unpin that spangled breastplate which you wear,
That th'eyes of busy fools may be stopped there.
Unlace yourself, for that harmonious chime,
Tells me from you, that now it is bed time.
Off with that happy busk, which I envy,
That still can be, and still can stand so nigh.
Your gown going off, such beauteous state reveals,
As when from flowery meads th'hill's shadow steals.
Off with that wiry Coronet and shew
The hairy Diadem which on you doth grow:
Now off with those shoes, and then safely tread
In this love's hallow'd temple, this soft bed.
In such white robes, heaven's Angels used to be
Received by men; Thou Angel bringst with thee
A heaven like Mahomet's Paradise; and though
Ill spirits walk in white, we easily know,
By this these Angels from an evil sprite,
Those set our hairs, but these our flesh upright.
Licence my roving hands, and let them go,
Before, behind, between, above, below.
O my America! my new-found-land,
My kingdom, safeliest when with one man mann'd,
My Mine of precious stones, My Empirie,
How blest am I in this discovering thee!
To enter in these bonds, is to be free;
Then where my hand is set, my seal shall be.
Full nakedness! All joys are due to thee,
As souls unbodied, bodies uncloth'd must be,
To taste whole joys. Gems which you women use
Are like Atlanta's balls, cast in men's views,
That when a fool's eye lighteth on a Gem,
His earthly soul may covet theirs, not them.
Like pictures, or like books' gay coverings made
For lay-men, are all women thus array'd;
Themselves are mystic books, which only we
(Whom their imputed grace will dignify)
Must see reveal'd. Then since that I may know;
As liberally, as to a Midwife, shew
Thy self: cast all, yea, this white linen hence,
There is no penance due to innocence.
To teach thee, I am naked first; why then
What needst thou have more covering than a man.
— John Donne
To My Dear and Loving Husband
If ever two were one, then surely we.
If ever man were lov'd by wife, then thee;
If ever wife was happy in a man,
Compare with me ye women if you can.
I prize thy love more then whole Mines of gold,
Or all the riches that the East doth hold.
My love is such that Rivers cannot quench,
Nor ought but love from thee, give recompence.
Thy love is such I can no way repay,
The heavens reward thee manifold I pray.
Then while we live, in love let's so persever,
That when we live no more, we may live ever.
— Anne Bradstreet
Epitaph
My dearest dust, could not thy hasty day
Afford thy drowsy patience leave to stay
One hour longer: so that we might either
Sit up, or gone to bed together?
But since thy finished labour hath possessed
Thy weary limbs with early rest,
Enjoy it sweetly; and thy widow bride
Shall soon repose her by thy slumbering side;
Whose business, now, is only to prepare
My nightly dress, and call to prayer:
Mine eyes wax heavy and the day grows old,
The dew falls thick, my blood grows cold.
Draw, draw the closed curtains: and make room:
My dear, my dearest dust; I come, I come.
— Lady Katherine Dyer
For David