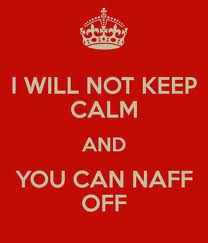 Faff, naff, chuffed and nous (rhyming with mouse). Oh dear: I'm going to miss Blighty.
"We've been sat in the car park for a good 15 minutes, faffing about with the satnav and trying to make Rupert's new phone work." — The Telegraph reporters at Glastonbury
"We will leave to one side the subtle humour – or otherwise – of Mr Cleese's performance in the naff Pierce Brosnan Bond film Die Another Day." — The Telegraph about 007's latest
"'I'm afraid I have to default on these bonds.' 'No you do not!' 'Naff off, Gringo…'" — International Financing Review wondering what power a US court should have to determine whether a foreign sovereign nation can or cannot declare its ability to pay its debts. 
"Chuffed to bits – Lewes Railway Station looks blooming lovely for summer" — Sussex Express on the transformation of Lewes Railway Station's gardens and planters
"Former England striker Gary Lineker has expressed his belief that the Three Lions lacked tactical nous on the field in their World Cup defeats." — Sports Mole on the World Cup.
Yeah — these colloquialisms are Britishisms at their very best. You'll hear them only on one side of the Atlantic — the more eccentric side — but by gum do they do the trick for anyone who cares to use them. Isn't faffing around just the perfect expression for that thing we all do sometimes when we're very busy achieving sod all?
Here's what the words mean and where they come from. And below them are 18 more that are equally expressive and quirky — and peculiar to us limeys.