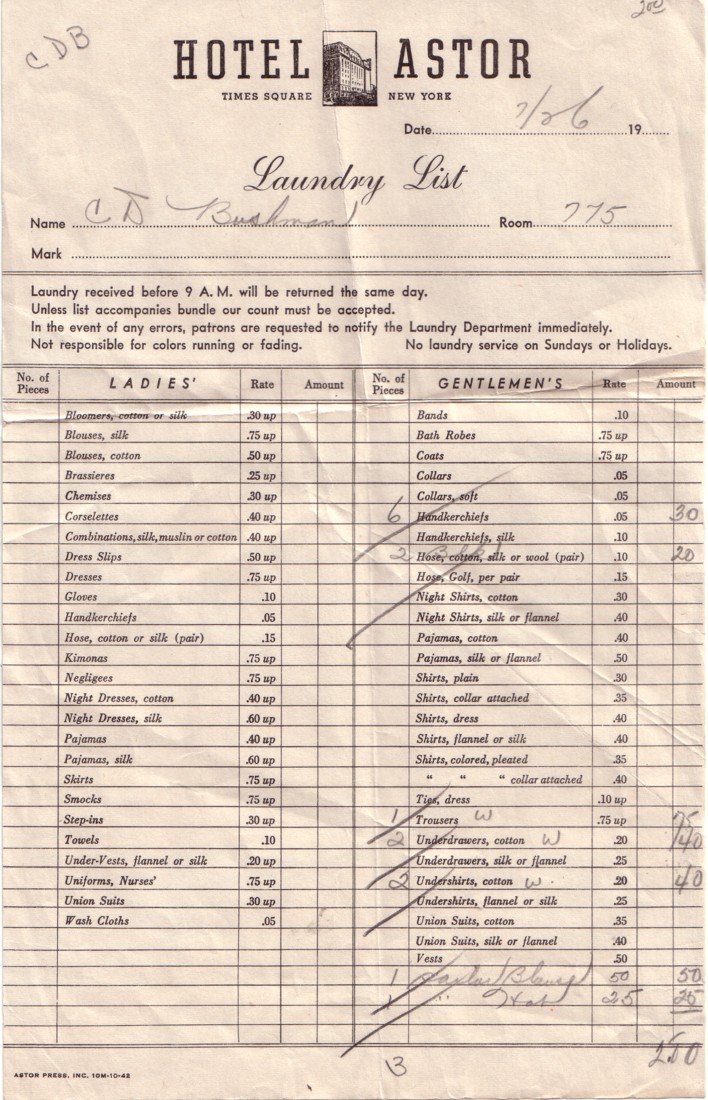 Jim in New York recently posed a question for Glossophilia:
"Dear Glossophile, I've never in my life made lists for my laundry. Yet I continue to hear the phrase, "laundry list," as in "laundry list of complaints." Whazzup? Did folks once need to inventory socks and underpants, etc. before laundering them?"
Yes, Jim in New York, it seems that once folks did indeed have to make inventories of their clothes before sending them to be laundered. The illustration above is of a laundry list filled in by guests of New York's Hotel Astor, back in the day when it cost a mere 5 cents to launder a handkerchief. According to Wiki.answers, this practice might date back to as early as the Civil War, when soldiers would make a list of their items to be laundered. (Although were there really people laundering the clothes of the military back in those days?) Wiki.answers believes the laundry list proper originated in the late nineteenth to early twentieth century when many sent their laundry out to be cleaned.
The late Denver Post columnist Ed Quillen wrote a colorful little piece about his experience of working for the family laundry business when he was a young teenager. Enlightening and evocative as the article is — with images of counterpanes and half-pairs, women's blouses and priests' collars, it's not difficult to imagine how such lists of clothing items could soon become deadly in their length and detail, especially to those reading or creating them for a living. Laundry lists of yore certainly wouldn't have made it onto today's Buzzfeed – the king of entertaining internet lists. No, it doesn't take a great leap of the imagination to see how our modern proverbial laundry list (ie. a tediously or unnecessarily lengthy list of items) was born from its literal forebear, which guaranteed efficiency and the return of freshly-laundered undergarments but not necessarily a basketful of laughs.