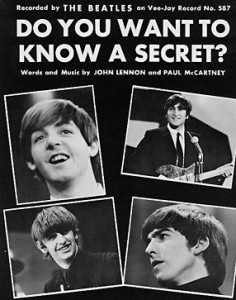 "It was 20 years ago today." Well, it was actually 50, and it wasn't today, but on February 9, 1964, The Beatles made their first live television appearance in the United States on the Ed Sullivan Show. That now legendary performance marked the start of the U.S.'s love affair with the four-man band from Liverpool — which before long would capture the minds and hearts of people all over the globe. The world's fascination with the Fab Four had begun.
Papers, books, web sites — indeed whole careers — have been devoted to the study of The Beatles and everything the band's members created, sang, uttered, argued about, wore, drank, inhaled, consumed, loved and hated — both collectively and individually — during and after the course of the band's reign at the top of the charts. Analyses of its lyrics alone form the subject of several books; the words of The Beatles' songs are seen as providing clues and insights into the minds and mysteries of this legendary quartet about which we can't seem to know enough.
Glossophilia takes a romp through this most famous garden of prose. Straight from the horses' mouths, John's and Paul's own words (as well as those of George and Ringo) tell some of the stories behind the lyrics and what inspired and fed them. From bus rides to breakfast cereal ads, a cab driver's photo ID to a beloved pet, acid trips to Disney movies, the stories are endlessly fascinating and sometimes myth-busting. The adventure begins with a look at the "Paul Is Dead" theory and the lyrics that helped fuel this outlandish idea; Glossophilia then journeys through some of the songs — in roughly the order they were written (recording dates are in parentheses) — with comments from the lyricists themselves. By no means an exhaustive survey, this is a selective collection of entertaining insights from the men who gave us some of our favorite songs. Most of the quotes are taken from a handful of publications: a substantial interview given to Playboy magazine in 1980 by John Lennon and Yoko Ono, excerpted in the magazine in January 1981 and later published in full as All We Are Saying by David Sheff in 2000; Paul McCartney: Many Years From Now, the 1998 biography by Barry Miles; and The Beatles Anthology, 2000.
"Paul Is Dead"?