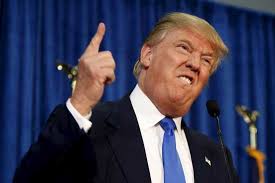 From the Oxford English Dictionary:
Trump: vt. slang break wind audibly
From the Online Etymology Dictionary:
Trump (v.): "fabricate, devise," 1690s, from trump "deceive, cheat" (1510s), from Middle English trumpen (late 14c.), from Old French tromper "to deceive," of uncertain origin. Apparently from se tromper de "to mock," from Old French tromper "to blow a trumpet." Brachet explains this as "to play the horn, alluding to quacks and mountebanks, who attracted the public by blowing a horn, and then cheated them into buying …." The Hindley Old French dictionary has baillier la trompe "blow the trumpet" as "act the fool," and Donkin connects it rather to trombe "waterspout," on the notion of turning (someone) around. … Trumped up "false, concocted" first recorded 1728.
~~~~~