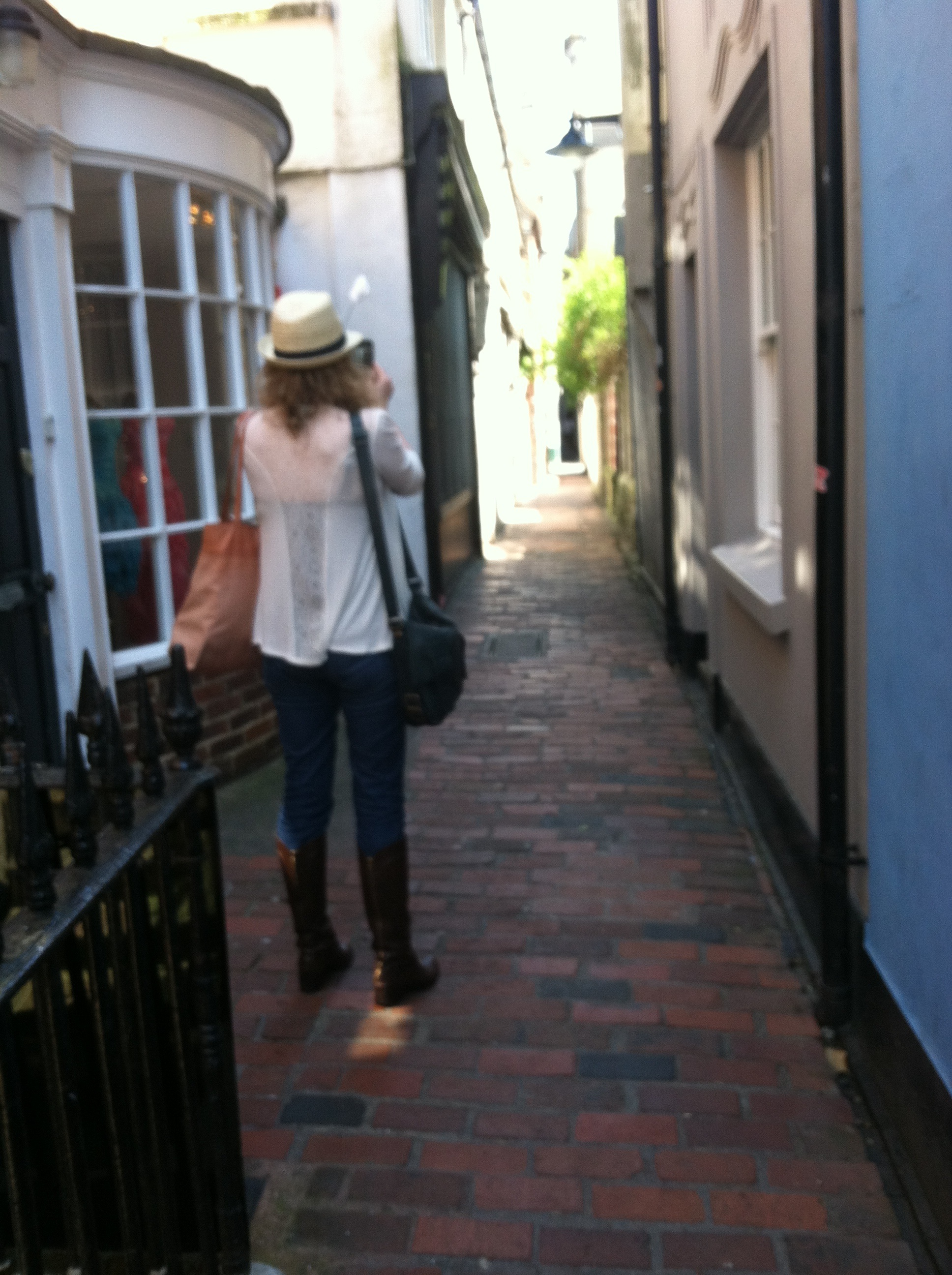 Me in a twitten
During my weekend in Brighton, I've discovered two words from the old Sussex dialect that are still alive and well and being used in Brighton, Lewes and Cuckfield: laine and twitten. One of these has a similar meaning to lane, and you've probably guessed that it's not the one you might think.
A visit to Brighton wouldn't seem complete without a visit to the North Laine — a trendy bohemian shopping and eating area that isn't actually part of the city's famous Lanes (apart from anything, they're spelled differently). Laine is an old Sussex word describing an open tract of land; it derives from an Anglo-Saxon legal term for a landholding — nothing to do with lanes or streets. The area  now known as North Laine once represented five open farming plots that had probably existed as such since the Middle Ages. In fact, the original farmhouse is where Brighton's famous Royal Pavilion, the palace built for the Prince Regent who would become King George IV, now stands.
Twitten is also from old Sussex dialect, dating back to the early 19th century, and it means a narrow path, passage or alleyway between two walls or hedges, usually leading into a courtyard, street or open area. There are a few very picturesque twittens dotted around Brighton and throughout East and West Sussex, some with quaint little houses on at least one side of the narrow alleyway. It has been suggested that the word derives from the    Low German twiete, meaning "alley" or "lane"; Wiktionary proposes that it's a corruption of betwixt and between. The word is included in William Douglas Parish's A dictionary of the Sussex dialect and collection of provincialisms in use in the county of Sussex, published in 1875.
Other regional/quirky names for alleyways around England and Great Britain are twitchells (probably related to twittens) in north-west Essex, east Hertfordshire and Nottingham; chares in north-east England; jennels, gennels or ginnels in northern England — the latter sometimes roofed or covered; opes in Plymouth; jiggers or snickets in Liverpool; gitties (or jitties) in Derbyshire and Leicestershire; shuts in Shropshire; and vennels in Scotland. As recently as 1983, a Yorkshire writer named Mark W. Jones invented a new word, snickelway, by making a portmanteau of three words already mentioned: snicket, ginnel and alleyway: this neologism is now in regular local use.
Here are a bunch of what I might refer to as twitten: participants in Brighton's annual Naked Bike Ride, which we stumbled upon in fairly frigid temperatures earlier today: