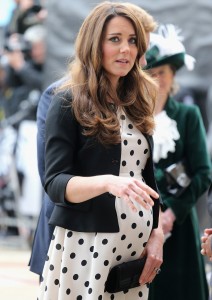 Day 14
Up the duff.
"But whatever Christmas and New Year have in store for Weatherfield it seems tradition that someone either gives birth or dies at this time of year, and as none of the characters are up the duff, it is likely someone is about to meet their untimely demise on the cobbles." — from a TV soap preview in the Manchester Evening News, Oct 20, 2014
Knocked up. i.e., pregnant. (See Glossophilia's earlier post on pregnant words.) As Phrase Finder explains, "One of the numerous slang terms for the sexual organs, or more commonly specifically the penis, is pudding. … Dough is another word for pudding and duff is an alternative form and pronunciation of dough."
Also: up the spout*: "Euan, Kathryn and Nicholas Blair, the children of the ex-PM, 58, had to endure the horror of knowing that their parents still Did It even though they're old, when Cherie, 57, got up the spout with Leo at 45." — Daily Mirror, 15 Nov. 2011
In the club.
In the pudding club. "Paula Lane Pregnant With First Baby: Just a couple of weeks after Jennie McAlpine (Fiz Stape) announced her pregnancy, we find out that another Corrie actress is also in the pudding club." — Coronation Street blog, 5 June 2014
* Up the spout has another meaning: no longer working, or unlikely to be useful or successful. World Wide Words has the scoop.