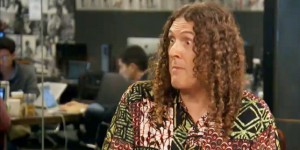 It's weird but true: "Weird Al" Yankovic actually gets grammar.
To promote his new album, Mandatory Fun, Weird Al is releasing a new video every day for each of the tracks on the CD. Today's video is the song "Word Crimes" — a take-off of Robin Thicke's "Blurred Lines". It's music to the ears of us grammar nerds.
"I hate these word crimes / Like 'I could care less' / That means you DO care"
"I don't want your drama / If you really wanna / Leave out that Oxford comma"
And if you can't stop committing these word crimes, then Al suggests that "you should hire / some cunning linguist / who can help you distinguish / what's proper English …"
Anyone who understands the difference between less and fewer and that irony is not coincidence (yes, he manages to slip both those words crimes in) is a man after my own heart.
Knock yourself out, Glossophiles, and sing along with Al …
Hat-tip to Lil …